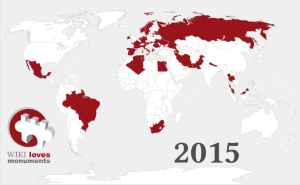 Would you like to participate in Wiki Loves Monuments, and have a chance to win one of the wonderful prizes? The only thing you have to do for that is upload a freely-licensed image of a monument in one of the participating countries to Wikimedia Commons. Links to the respective national websites are available in the sidebar to the right; you can also search our English pages directory if you don't speak the local language.
Please use also our main Upload Wizard page where you can choose your monument's country and start your upload easily.
Every country has its own monuments, organisation, partners and awards – and the ten best photos for each country will be submitted to the international contest. That way, you automatically participate in the world-wide contest by participating in a national contest in September.
Participating Countries in 2015