Wiki Loves Monuments wouldn't be possible without partners and sponsors helping us out. A list of partners and sponsors for the 2013 edition of the competition follows below.
Partners
---

Europa Nostra is an European federation of organisations active in the field of European heritage, trying to save heritage objects at risk and lobbying to improve cultural heritage. Europa Nostra has supported Wiki Loves Monuments since 2011 by helping establish relations with cultural heritage organisations around Europe.

The International National Trusts Organisation (INTO) is a network of National Trusts and similar organisations interested in conservation of world's cultural heritage. INTO supported Wiki Loves Monuments as a networking partner for the 2012 and 2013 editions.
Sponsors
---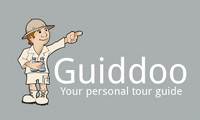 "Guiddoo – Your Personal Tour Guide" is a personal tour guide app that can provides video and audio tours, history and trivia about famous monuments. Guiddoo sponsors a Special Award for Arab speaking countries and for East, Southeast and South Asian countries.

Europeana is an Internet portal gathering over 10 million of books, paintings, films and museum objects digitalised in the member states of the European Union. Europeana sponsors a Special Award about the First World War.