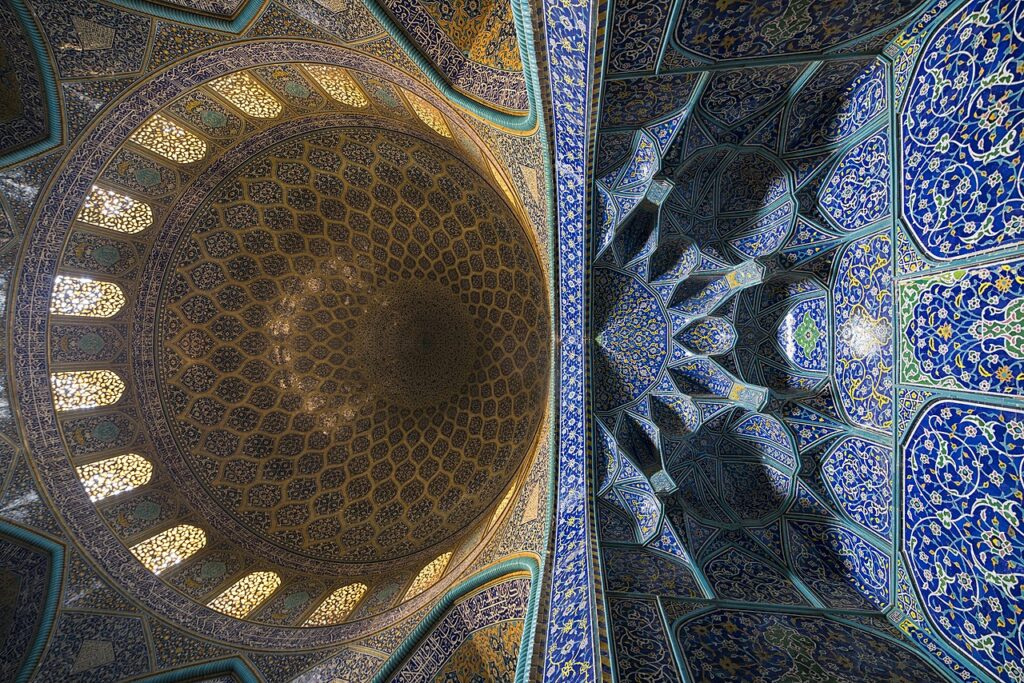 Presenting the 2018 winners from the world's largest photo contest
The top fifteen images from Wiki Loves Monuments contain a treasure trove of the cultural heritage we all share.
Alireza Akhlaghi had plenty of time inside the famed Sheikh Lotfollah Mosque to capture the photo that leads this blog post. Why? He walked in at exactly noon, just as the building was about to close down for two hours. He was able to convince the mosque's guards to let him inside anyway, even though they told him that they'd have to lock him inside until the building re-opened. "I was all by myself and taking photos," he wrote.
One of the fruits of his labor was this, unusual in that the mosque's closure meant that a red spotlight—"which ruins the beautiful colors of the ceiling and the altar," he wrote—was shut off. Akhlaghi's effort paid off, as he won first overall in this year's Wiki Loves Monuments.
Mustafa Waad Saeed went to ancient Petra, Jordan, to celebrate his birthday early this year. An amateur photographer, he nonetheless won second place for what one jury member called a "magical picture" which "revolves around light and spirituality" and connects the place's humanity with "its timeless cultural heritage."
Christopher Cherrington has been taking photos for over five decades, but only got into digital photography late last year. He spent 75 minutes capturing the 26 individual photos that make up this panoramic view, blending them together to account for stray tourists wandering in and out of shot.
"Capturing this image wasn't just a 'moment' of opportunity," he said. "I planned it carefully before even setting out from home, with strategies to overcome the expected challenges: tourists, dynamic range of light and wide angle of shot." The time investment was rewarded with a third-place showing.
---
These are the top three of fifteen winning photos from this year's Wiki Loves Monuments, an annual photo competition recognized by the Guinness Book of World Records as the world's largest photo competition. The contest, now in its seventh year, focuses on "monuments," which the organizers broadly define as structures recognized by a local authority as being of particular value to cultural heritage.
This year's rendition lived up to the billing: over 258,000 photos were submitted by just over 14,000 photographers. A plurality of the photos were of Russian subjects, followed by Italian, German, and Ukrainian.
The top images were winnowed down by the federated nature of the contest, as Wiki Loves Monuments is primarily organized on a national level by people just like you. Up to ten winners from each national competition, fifty in all, were advanced to an international jury, whose results are listed here.For more information on the winning photos and the 2018 competition, go to www.wikilovesmonuments.org. For the equipment and settings used to capture these shots, click on the images and scroll to the bottom of the page. The remaining winners follow below:
The text of this post has been contributed by Ed Erhart, Senior Editorial Associate, Communications at the Wikimedia Foundation.