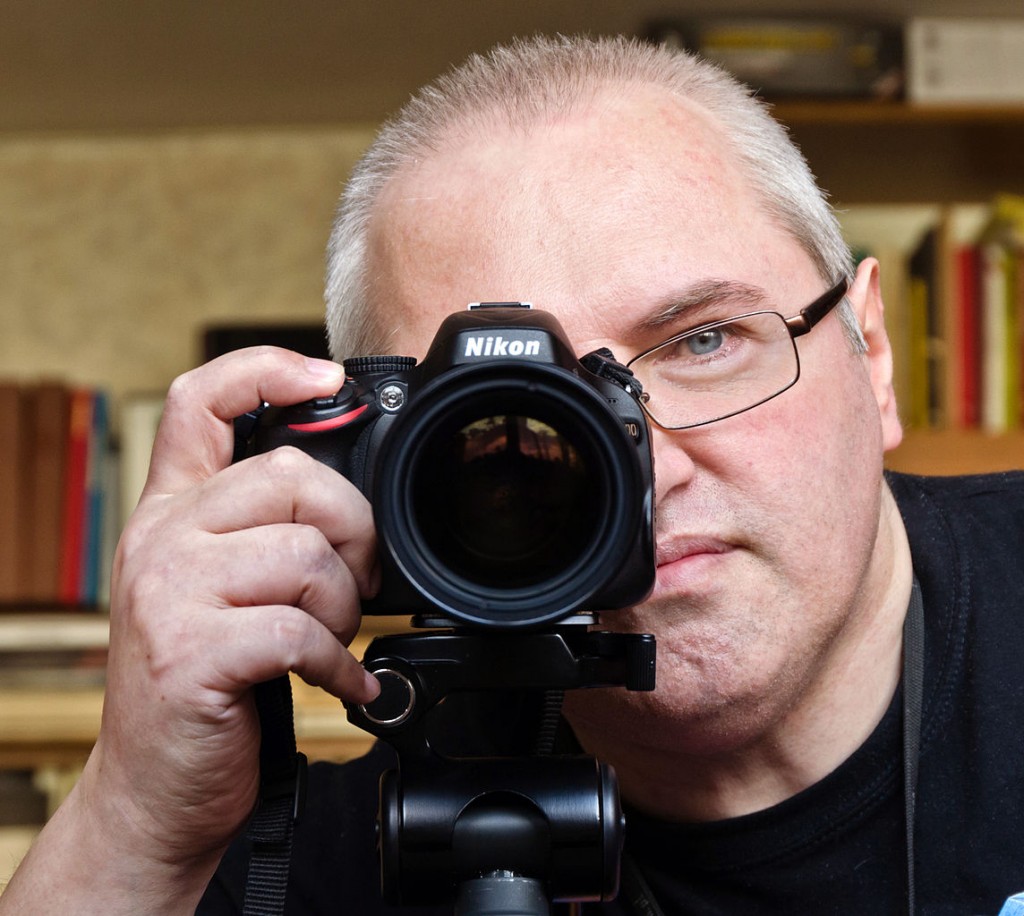 Interview with Jacek Halicki — a disabled WLM participant turned Wikipedian
With the 2013 Wiki Loves Monuments contest behind us, we are pleased to present an interview with Jacek Halicki, a volunteer Wikipedia and Wikimedia Commons contributor whose involvement with the Wikimedia world first started during the 2012 edition of our competition.

This interview is a belated translation of the original interview for the Polish Wikinews which was conducted on November 22, 2012; as such, it might not be entirely up–to–date.
---
Tomasz Kozłowski: When and where did you learn about Wiki Loves Monuments and what was your main motivation to join in?
Jacek Halicki: I first got to know about the contest from a banner displayed on top of the main page of [the Polish] Wikipedia. At the beginning, I wasn't planning on taking as many photos as I did; only after I'd looked at the statistics page and noticed how many photos other contestants were uploading I decided it would be worth to match them. It was also then that I decided to take and upload the photos of all the monuments in Kłodzko which had not been illustrated in Wikipedia at that point. I fully succeeded in this attempt.
I noticed that you uploaded over 500 contest photos of the Kłodzko area; you additionally edited several of them (perspective corrections, colour adjustments, etc.). What made you commit so much to the contest? What does photography mean to you?
My first attempts at photography were in the mid–1970s, when I became a proud owner of a Smena 8M camera while still in primary school. That was a totally different technology age: if you wanted to take a sharp picture of an object, you needed to assess the distance to the object in metres, and adjust the lens accordingly. In order to set up exposure parameters, one used paperboard exposure charts. Light meters were a rarity back then, and no one even dreamed of cameras with automatic exposure…
I was given my first photography lessons by Tadeusz Jażdżewski, the founder of the Kłodzko Photo Club, a social activist, photography aficionado, and a truly remarkable man. After that came a "true" SLR Zenit camera which I bought with my first earned money. It was then that I was drawn into photography for good; you could see me wandering around the city with a heavy bag, loaded with lens, looking for interesting subjects to take photos of.
I always preferred to see myself as a craftsman rather than an artist when it came to photography; even so, I took a few rather successful cracks at high-level photography. In 1988, the then-head of the Kłodzko Community Centre, Bogusław Michnik, suggested that I organise an individual exhibition. That same year, I was invited to a photography workshop titled "Participation in community" led by a well–known photographer, art theoretician and academic, Jerzy Olek. The workshop resulted in my participating in a joint exhibition at the Foto-Medium-Art gallery in Wrocław.
Over the years, I participated in several photo contests and had my pictures win awards. Aside from the artistic part of photography, for many years I worked as a photojournalist at a few local newspapers.
What was the biggest barrier to your participation in the contest?
I have a severe mobility impairment; I can't walk on my own, and I move around using a tricycle with a power–on–demand electric motor.
For that reason, participating in the competition was a big challenge for me: I can't always reach places to get a good frame. People involved with serious photography surely know what I mean: often moving just by a metre can mess up your frame, especially in narrow streets which there are plenty in Kłodzko.
A few of the photos of the Old Town in Kłodzko were taken, after a short training, by my colleague, a complete novice in photography. I suggested that he take as many photos as he can, with the assumption that if he took multiple photos of a single object, at least one of them would be correct. I took several photos of Bystrzyca Kłodzka and of the Kłodzko surroundings from a car of another colleague of mine, who took some pictures in places we couldn't reach by car. In addition to that, I was helped by my daughter who took pictures of buildings in Kłodzko that were incorrectly photographed by my colleague. Some of the pictures taken per procura had to be re–taken multiple times before the result was satisfactory.
After getting the raw files, I dived into my favourite part of image processing: cropping, retouching, correcting perspective, light, shadows, etc.
Would you have any suggestions for the organisers of future Wiki Loves Monuments contests as to what could be fixed or done differently?
For reasons unknown to me, not all of the pictures I uploaded are visible on the list of monuments in Kłodzko; this is something that surely needs fixing.
Moreover, the site with contest results only includes statistics for the total number of files contributed; there are no statistics for the number of new monuments photographed, i. e. those that had not been yet illustrated in Wikipedia.
One of the aims of Wiki Loves Monuments is to turn the readers of Wikipedia into active editors. Have you tried editing any articles yet, and if so, what is your impression of that? Was there anything that was particularly difficult for you, which we as a community could help you overtake?
A natural consequence of my uploading pictures to Wikipedia was to add them to existing articles. Here I have to say that, unfortunately, editing Wikipedia was a nightmarish experience for me. Text-based editing is, I believe, too complicated for the average user. I think that Wikipedia would gain a lot if it was possible again to edit existing articles and create new ones using a graphical interface. Ploughing through lines of code is just too hard for people without a thorough level of computer literacy. [The interview was conducted in November 2012, before the introduction of the VisualEditor — TK]
Luckily, you can count on the help of experienced Wikipedians on GG [a Polish instant messaging client — TK]. If it hadn't been for them, I would not have been able to make my first edits on Wikipedia. In the future, I might go in for creating new articles about the monuments in Kłodzko.
Will you be taking part in the next edition of Wiki Loves Monuments if it's organised in Poland? If so, how do you see your future participation in the contest? Can we count on more pictures of monuments in the Kłodzko area?
As long as my health permits, then surely yes! No matter how pompous it sounds, I'm glad I'll leave something good behind when I'm gone from this world; I'm glad that my pictures will live on and, perhaps, will be useful to people…
Is there anything you'd like to say to the other Wiki Loves Monuments participants?
Browsing through photos taken by other contestants, I noticed a great number of pretty good shots messed up by the lack of perspective correction. One needs to remember that architectural photography is one of the toughest jobs in photography, and that photos should be taken with the use of linear perspective.
Meanwhile, wide-angle lens, which are used when you can't move away from your object, heavily distort the space, make straight lines bend and buildings fall over. Aside from very rare situations when such effects have formal justification, these are just image defects that should be corrected using Photoshop or other photo editing software available on the Internet. Taking a good photo of architecture is rarely just about pressing the shutter button.
Thanks for the interview!
Thank you! While I still have the opportunity, I'd like to thank the people who helped me with my endeavour: my daughter Asia, Krzysztof Motylewski, and Maciej Wardach. Without your help, I could never have participated in the contest.
---
About Jacek Halicki
Jacek Halicki is a pensioner and a citizen of Kłodzko, a city in the south-west of Poland. His hobbies include jazz music, computer games, good films and — as you read in the interview — photography.
While taking photos for Wiki Loves Monuments 2012, Jacek became an editor of the Polish Wikipedia where he creates and improves articles related to Kłodzko, which is often referred to as the "Little Prague" due to its high number of cultural heritage monuments.
As of the publication date of this post, Jacek Halicki has contributed over 4,000 images to Wikimedia Commons; over 100 of them were awarded quality image status on Commons, and further 12 were classified as featured pictures on the Polish Wikipedia.
Besides uploading new photos, Jacek has created over 50 new articles on the Polish Wikipedia, and his pictures are included in over 150 other articles. In 2013, Jacek was also awarded the second prize in the Polish edition of Wiki Loves Monuments in terms of the number of pictures uploaded.
Copyright notes