Wiki Loves Monuments 2011 officially broke world record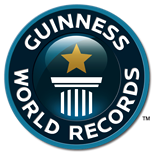 Wiki Loves Monuments proudly presents: we broke a Guinness World Record! The 2011 contest with its 168,208 submitted photos has been officially recognized as the world's largest photography competition.
The 2011 edition was organized in Europe, where 18 countries participated and nominated the ten best photos from their country to the European finale. More than 5400 people submitted a photo in 2011. All 168,208 images were donated under a free license and free to use for Wikipedia and everybody else. The organizers are more than happy to see how this idea of taking and sharing  images of cultural heritage spreads around the world and motivates people to participate to Wikipedia and document their local heritage.
What the Guinness World Record officials still do not know: The number of uploads for Wiki Loves Monuments 2012 already went beyond this record breaking number with a more than doubled result. The contest is still ongoing though (you are still able to upload images for Israel), and once we're able to collect all information necessary for a full application we hope to be able to once again get a higher record recognized.
We would like to thank all the volunteers who made this 2011 competition into a record. Hundreds of volunteers helped organize the contest, and thousands of people made their images available so that they could be used on Wikipedia. A wonderful way to contribute to the body of knowledge that Wikipedia tries to offer to every human being on this planet. Do you also want to share your knowledge or photos about cultural heritage with the world? Please do! You can click 'edit' on Wikipedia or submit a photo through our website.