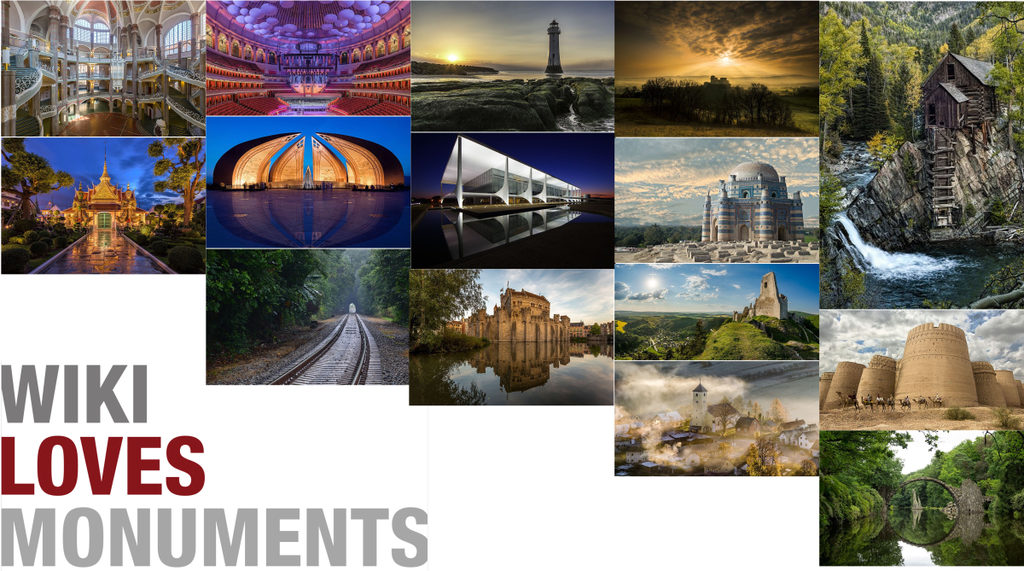 We are proud to announce the 15 winning photographs of Wiki Loves Monuments 2016. More than 10,700 photographers participated this year, submitting over 275,000 photographs of historic buildings, monuments, and cultural heritage sites to Wikimedia Commons for use on Wikipedia, Wikivoyage, and other free knowledge projects. Thanks to them, more heritage sites from a diverse selection of countries can be explored through Wikipedia.
In this year's contest 42 national competitions organized their own national jury process, and submitted their 392 nominees to this international finale – if you want to explore more beautiful heritage from around the world after this blogpost, you can take a look here.
We hope that this will be an encouragement for you to share your photos through Wikimedia Commons as well. You can do that by participating in one of the photo challenges (keep an eye on this blog and @wikimonuments on Twitter), or just by uploading your photos directly. You can start today.
But now it is time to celebrate the 15 winning photos of the international finale! Please enjoy. A jury report with all the top-58 images is also available, with more detail to why the images won. Below is a full list of the 15 winners, enjoy:
First place. The entrance hall and the windy staircases of the district court of Berlin, Germany, are experienced by thousands of people every year. Ansgar Koreng, a lawyer deeply familiar with this monument, got permission to take a photo and share a glimpse of inside this building.  (Ansgar Koreng, CC BY-SA 3.0)
Second place. The interior of the Royal Albert Hall, United Kingdom, was missing a good quality photo on Wikipedia. Colin decided to change this during an Open House London annual weekend event, when taking photos of the hall was allowed.  (Colin, CC BY-SA 4.0)
Third place. Richard, an amateur photographer, went back to the same spot where he started his photographic hobby to get this shot of Perch Rock Lighthouse, United Kingdom. (Richard J Smith, CC BY-SA 4.0)
Fourth place. The hills of Emilia-Romagna in Italy are the home of the Castle of Torrechiara, seen here at sunset. (Lara Zanarini, CC BY-SA 4.0)
Fifth place. The two mythical giant demons Thotsakan (left) and Sahatsadecha (right) guard the Buddhist Wat Arun temple in Thailand. The photographer journeyed to the temple waited for hours to take this shot of the temple at twilight after a journey via the Chaopraya River. (Janepop Atirattanachai, CC BY-SA 4.0)
Sixth place. The blooming flower of the Pakistan Monument is seen here during the blue hour. The photographer traveled from Lahore to Islamabad to share this view of Pakistan's symbol of unity with the world. (Muhammad Ashar, CC BY-SA 4.0)
Seventh place. "At the right place, at the right moment" and many years of experience culminated in this illuminated Planalto Palace at sunset, where the photographer was able to capture the contrast between Brazil's presidential palace and its surroundings. (Gastão Guedes, CC BY-SA 4.0)
Eighth place. The octagonal three-tiered shrine of Bibi Jawindi, located in the historical city of Uch, Pakistan, was built in 1493 for the great-granddaughter of a Sufi saint. (User:Usamashahid433, CC BY-SA 4.0)
Ninth place. Fog, golden leaves, and the winter atmosphere engulf the fourteenth century Saint Lawrence church in Zliechov, Slovakia. (User:Volodka22, CC BY-SA 4.0)
Tenth place. Two friends traveled 500 kilometers to capture the elements of romance, decaying glory, and another set of travelers in Darawar Fort, Pakistan. (Tahsin Shah, CC BY-SA 4.0)
Eleventh place. A beautiful day in September at Crystal Mill just before sunset. The Mill is an old power generation plant that supplied hydroelectricity to the mining town of Crystal, Colorado in the United States. The road to Crystal Mill is a tricky one to drive; the photographer had to negotiate a narrow road with steep drop-offs to capture this shot. (Joe Sparks, CC BY-SA 4.0)
Twelfth place. Gravensteen castle in the center of Ghent, Belgium, has been a witness to history since the Middle Ages. The photographer waited for days for this moment, as it depended on sunset rays that would give the building a warm glow. (David Horvath, CC BY-SA 4.0)
Thirteenth place. Čachtice Castle, Čachtice, Slovakia, was captured by a twenty-three-year-old photographer who hikes the mountains of Slovakia and spends nights under the sky to explore nature and monuments in his country. He took this photo while on his way to meet an old classmate. (Vladimír Ruček, CC BY-SA 4.0)
Fourteenth place. The so-called "Devil's Bridge" in Gablenz, Germany, was captured by the photographer while on a family trip to rediscover his family's roots. (Albrecht Landgraf, CC BY-SA 4.0)
Fifteenth place. The photographer, a long-time Wikimedian, was traveling in Panama on a rainy day with dim lighting conditions. He decided to take a shot of the Panama Canal Railway, an instrumental component in constructing the canal. (Ivo Kruusamägi, CC BY-SA 4.0)
Did you enjoy these images? Continue browsing the winners of all the national competitions on Wikimedia Commons!