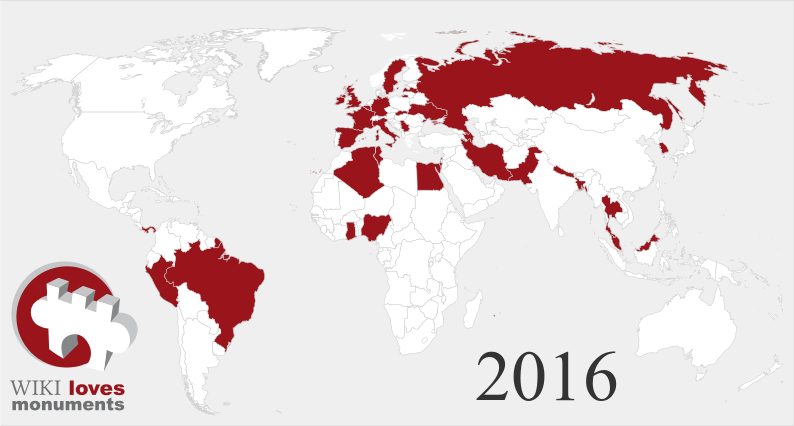 Wiki Loves Monuments 2016 – Last call for interested organisers
Wiki Loves Monuments, the biggest photo competition in the world, will take place in September 2016 for the seventh time! Throughout September, people in more than 30 countries will be invited to share photos of their national heritage through Wikipedia.
Organizing Wiki Loves Monuments every year relies almost entirely on volunteers who get together to make the contest happen in every participating country. We need people like you to make Wiki Loves Monuments a success again.
If you would like to see your country participate in Wiki Loves Monuments this year, now is a good time to make sure you're on track. This means:
Make sure that your country is in  

the list of (definitely) participating countries

for 2016. You can click on the country name to offer assistance or find out how you can participate.

Can't find your country in the list? Are you interested to (help) organise the competition in your country? Then tell the international team about your interest, so that we can connect you with other interested people. Please leave a message

here

, or if you prefer that, contact us through one of these

channels

. The international team will work with you to help you make it happen.

You don't need to wait for us. Go through the

guidelines for local organisers

carefully and make sure you have started making progress in each of the categories discussed in that page. If this is the first time your country is participating in WLM, it is especially important to get started on this checklist sooner rather than later. If you have questions or need the international team's help with any of the items, please post your questions

here

or contact us through one of these

channels

.
If you need any help at all, we're here to for you. You can ask for help from organisers in other countries, or talk with the international team. Please check here to learn how. They usually can remove some of the blockers for organizing the contest in collaboration with you. 🙂

Let us have an awesome Wiki Loves Monuments competition this year!

You can also follow us on Twitter or join the Facebook group.






(all photos are available under the CC BY-SA license)