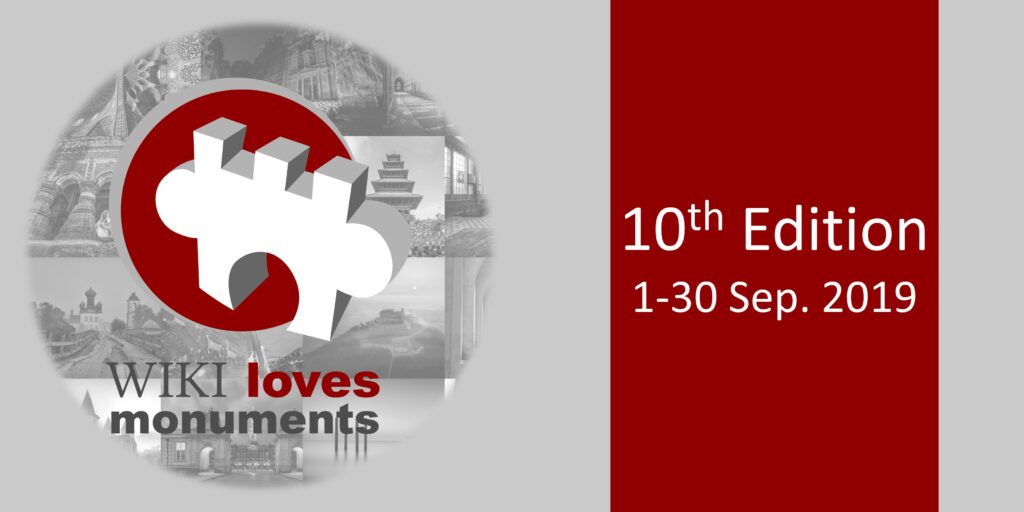 Wiki Loves Monuments 2019 Is Now Open!
Wikimedia volunteers around the world started the 10th edition of Wiki Loves Monuments on September 1st, 2019. This is the 10th edition of WLM, a remarkable achievement for a competition that has garnered the status of "the world's largest open photography contest" in Guinness World Records. We are excited and look forward to running another successful round of adding monument(al) photos from all over the world to Wikipedia. Photos submitted through WLM illustrate the more than 1.4 million monuments on Wikipedia and help more people around the world to learn about history and national heritage of all participating countries.
WLM is for everyone! If you ever wondered how to start giving back to the wealth of knowledge on Wikipedia that all of us use on a daily basis, this is a great way to start. Everybody can join the competition by submitting a photograph of a nationally registered monument on Wikimedia Commons before September 30, following the instructions for each country. You can participate in as many national competitions as you wish. The national and international winning entries in WLM normally enjoy exposure by making national and international headlines.
Wiki Loves Monuments is an annual photo competition celebrating built cultural heritage. It is organized by volunteers around the world, and up to top ten photographs from each country are selected for an international finale. The winners from 2018 included a mosque in Iran, ruins of an ancient city in Jordan, a cathedral in the United Kingdom, an abandoned factory in Poland and other photos from Bangladesh, Russia, Romania, Nepal, Denmark and elsewhere. These may be regular sights for some people, but thanks to Wiki Loves Monuments photographers, they will be more documented on Wikipedia and more accessible to everyone around the world, free of cost, forever.
Over the years, WLM has not only collected millions of photos for Wikipedia, it has also formed communities, strengthened local Wikipedia-related activities and brought Photography and Wikipedia enthusiast together. WLM photos are not just random photos. They come with personal stories, some of which from 2018 winners you can read here. They help preserve monuments and occasionally bring awareness to the ones that are endangered.
Wiki Loves Monuments is built on three simple criteria. First, all photos are freely licensed, like all other contributions to Wikipedia and Wikimedia Commons. By giving permission to the public to share these photos, it ensures that the results can remain widely available forever. Second, all photos must contain an identified monument, e.g., a building or art of historic significance – we want to know what heritage is on the photo, so that we can actually use it. Each country maintains a list of registered historic sites that are eligible for the competition. Third, the photo must be uploaded in the month of September. You are always welcome to contribute your photography to Wikimedia Commons, but photos uploaded before or after the month of September may not be considered for the competition. If you would like more details on Wiki Loves Monuments in your country, you can visit wikilovesmonuments.org/participate.
Whether you are going on a trip to visit someplace new, share this wonderful photo on a holiday trip many years ago or take a quick picture of a landmark where you live, we're excited to see your photographs.
Good luck!